I only ask because I don't think I am.  I honestly don't think I can do purple in my house even if it DID win color of the year….  What do you think?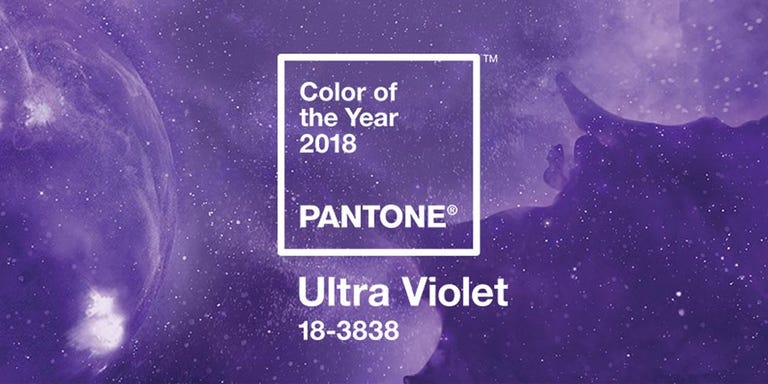 Pantone has done it again: their 2018 color of the year is bold, beautiful, and nothing like the other color predictions we've seen for next year. The company says their pick, Ultra Violet 18-3838, is a "dramatically provocative and thoughtful purple shade" and "communicates originality, ingenuity, and visionary thinking that points us toward the future" — and the design industry agrees.
"There's a hint of fantasy in this color — something almost unreal and fabulist about it, after all, real ultra violet rays are beyond human comprehension – the naked eye can't see them!" says Editor in Chief of House Beautiful, Sophie Donelson. "I like the magic, optimism, and fearlessness it invokes. At home, I'd use it to envelope yourself, royals style – how about a least a mohair throw, it's not quiet a velvet cape, but it'll do!" We bet a plush velvet bench will do the trick, as seen in this dining area.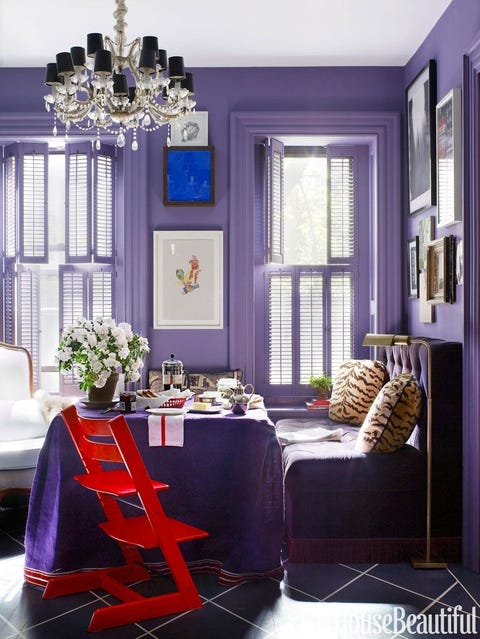 Nancy Fire, creative director of HGTV HOME, Design Works International, and Studio NYC Design, says she's already thinking about how she can use it in her design work. "Ultra Violet works well as an accent pillow, wallpaper geometric combined with grey, and, of course, a regal paint color that plays well with grey, loden green, and many neutrals," Fire says.
We think using this bold color as a statement, not to fill an entire room, is key if you usually stick with neutrals and safe shades — and Abbe Fenimore from Studio Ten 25 agrees. "When used in small doses as an accent color it can be really rich and feminine. I love it paired with pinks, greens, and metallics, especially gold and brass. You really only need a little bit of it to make a statement!" Fenimore says.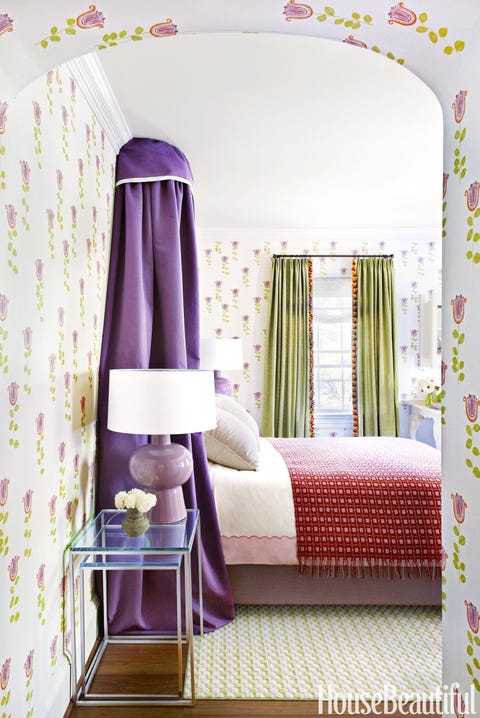 This Maryland bedroom designed by Mona Hajj uses this purple canopy to create a dreamy focal point.
However, not everyone was on board when they first saw the shade. "I'm not a big fan of the color purple in general," says Jessica McClendon from Glamour Nest. "However, this color is perfect for those who want to try something a little bit adventurous. It's definitely no Rose Quartz or Serenity, as it is better suited to be more of an accent color." So if you are a fan of purple, and a risk-taker, this color is calling your name—-Lauren Smith
As unfortunate as it can be when homeowners fall behind on mortgage payments and must face the possibility of losing their homes, short sales and foreclosures provide them options for moving on financially. The terms are often used interchangeably, but they're actually quite different, with varying timelines and financial impact on the homeowner. Here's a brief overview.
A short sale comes into play when a homeowner needs to sell their home but the home is worth less than the remaining balance that they owe. The lender can allow the homeowner to sell the home for less than the amount owed, freeing the homeowner from the financial predicament.
On the buyer side, short sales typically take three to four months to complete and many of the closing and repair costs are shifted from the seller to the lender.
On the other hand, a foreclosure occurs when a homeowner can no longer make payments on their home so the bank begins the process of repossessing it. A foreclosure usually moves much faster than a short sale and is more financially damaging to the homeowner.
After foreclosure the bank can sell the home in a foreclosure auction. For buyers, foreclosures are riskier than short sales, because homes are often bought sight unseen, with no inspection or warranty.
I don't know about you but the one thing that I wish Moses Lake had more of is Modern Architecture. There is something about the clean lines that speaks to my OCD. Looking through these articles and seeing all these beautiful homes make me wish we had a builder in town who did more modern homes. Are you a fan of clean lines or would you rather stick with the craftsman style?